Custom made humidors to your liking
A unique piece of furniture
The possibilities of putting together custom made humidors from scratch are endless. A humidor, in its individuality, is a very personal piece of furniture. We design, tailored to you, customized humidors, built-in humidors and cigar lounges. A Gerber Humidor is always a personal piece of furniture. Several fine appointments make a GERBER humidor stand out from the crowd. Custom made humidors are much more than mere commodity, and you will enjoy the sight of them for years to come.
Create your own humidor with us. Size and shape can be adapted to existing inventory. Size and shape can be adapted to existing inventory. In our collection of materials, you can be inspired by various decors. We will be happy to advise you. On request, your humidor can of course also be made of the same materials as existing furniture.
The interior of the humidor can be individually equipped. With our flexible elements and arrangement system, the interior can be optimally tailored to your cigar collection. Your cigars can be sorted and stored by brand, manufacturer and flavor. With a few simple steps, you can change the layout and create new arrangements. A humidor manufactured by Gerber is characterized by high quality and functionality. Your cigars can be optimally stored over a long period of time.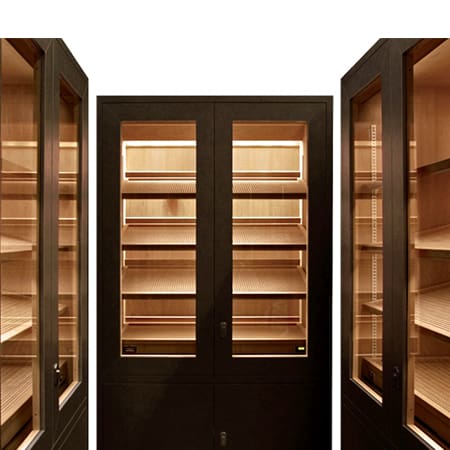 Every cabinet a single piece
Our customers receive special individual pieces, every detail manufactured in accordance with their wishes. Our products are hand-made, equipped with high-performance technology, all to create the perfect smoking experience. Gerber humidors are valuable pieces of manufacturing and real German craftsmanship.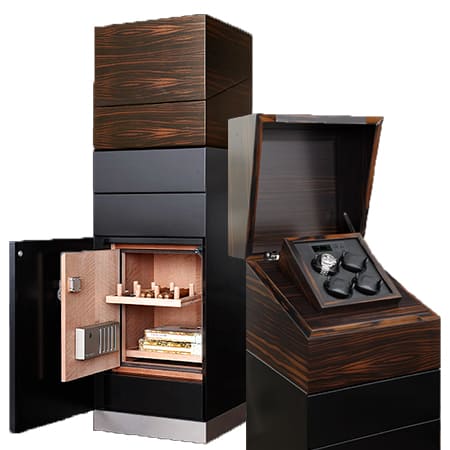 Being exceptional is our strength
Whether you place your humidor in a small niche on a shelf or if it takes up an entire wall, the individual nature of your piece will shine as a beautiful and unique showcase. Our customer service is personally provided, professionally competent, and internationally experienced. We take the time to fully understand your needs and create one of the most striking humidors in the world.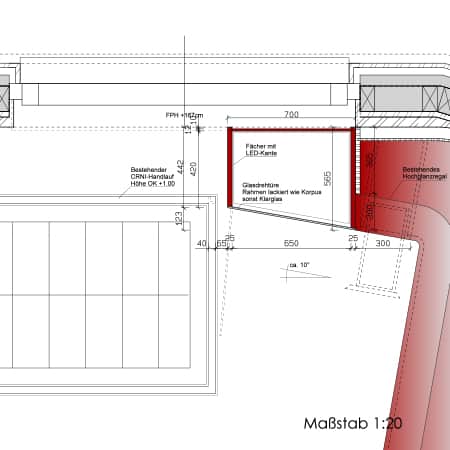 D
esigned and manufactured to be a perfect fit
Send us a photo or a sketch of where you would like to place your new humidor and we will design a special production humidor, tailored exclusively for you and your needs. Gerber Humidor offers endless possibilities and we aim to fulfill every wish.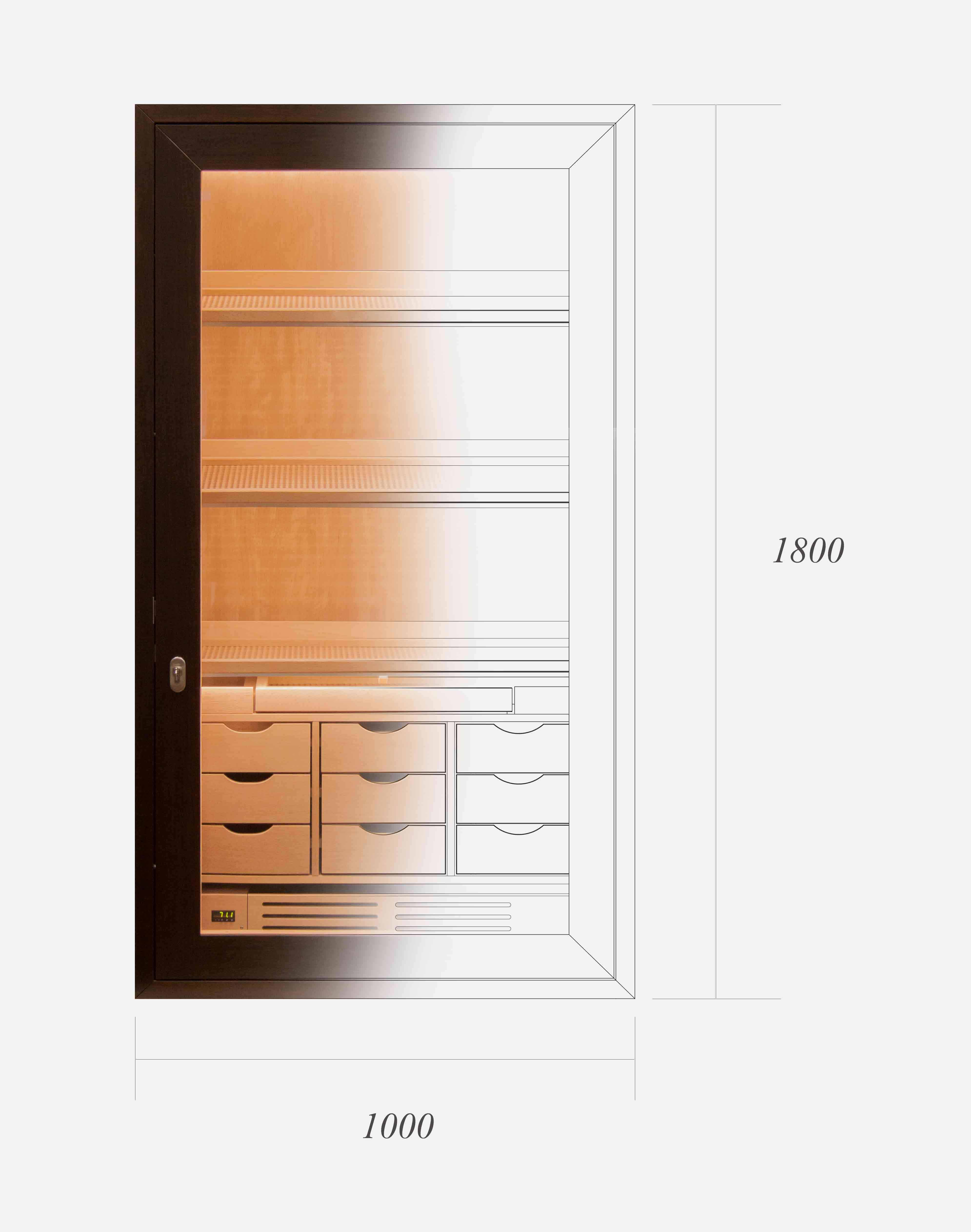 From the idea to the custom made humidor
Position: You have to choose a place with a constant room temperature. In this sense, please avoid places with direct sunlight, strong heat radiation and variations in temperature, such as winter gardens, fireplaces and rooms with air conditioning only for short periods. If you have selected the place for the humidor please ensure that is there enough space for adequate ventilation. The wood of the Spanish Cedar and the cigars will get intensively and unique fragrance. When the humidor is opened, the perfume will fill the room. Locations where the perfume is undesirable (like sleeping rooms or children's rooms) should be excluded.
Dimensions and shape: Next, determine the dimensions and the shape of your humidor. Please note that the humidor offers enough space for your cigar collection. We are happy to help you determine the appropriate dimensions. Depending on the size, you can choose between several versions. Socket, door, lid, closure and possible glass inserts leave plenty of room for a unique design.
Materials: Inside the humidor, we traditionally use Spanish cedar wood. Its unique characteristics distinguish it as the original humidor wood. The aroma spectrum of the wood of the Cedrela odorata is very close to that of the tobacco. There is no wood that would be more suitable for storing cigars.
The outer shell of your humidor is individually designed. In our versatile collection of materials we offer a wide range of precious woods, valuable metals, e.g. gold leaf, but also highly modern materials, such as Corian, Parapan and carbon.
Equipment: The equipment of each original humidor can be selected individually. Custom made humidors offer an enormous variety of combinations depending on their size and shape. Together with the customer, we choose the equipment of the humidors and create a unique, perfectly tailored to the respective cigar collection. In principle, the equipment, as the number of individual elements freely selectable. Please understand that not every equipment element can be offered for small humidors. To ensure the functionality, the features need enough space to be installed.
Individual details: As a highlight, personal details such as specially designed keys and (glass) engravings can be added. Thus, numerous equipment details create a unique cigar cabinet, which optimally stores your cigars and perfectly sets them in scene. Do you have questions about our humidors, do you want advice or do you have a project in mind? Then get in contact with us! We look forward to receiving your inquiries!