Gerber Humidor cigar cabinet and lounge manufacturer
Exklusive Humidors
Harmony, from both inside and outside, is what makes a Gerber humidor something special. We connect with the cigar smoke not only for the enjoyment, but also, to some extent, because it ties us to a sense of beauty.
For Afficionados worldwide is an original Gerber humidor the perfect complement to a precious cigar treasure. One of our humidors crowns the pleasure by the perfect union between optimum cigar storage, luxurious optics and very modern equipment: From a desktop humidor up to a complete Cigar Lounge – you receive unique humidors in the most different dimensions and equipment variations with us. Gerber is a family owned joinery and a Cigar Lounges manufacturing company.
From family tradition all Gerber humidors are hand-crafted with the "Made in Germany" stamp. We found the best way for our products to connect tradition and modernity.  We are cigar humidor manufacturers. The humidors are handmade in a traditional way equipped with the state-of-the-art technology and instrumentation.
Dear Aficionado, dear Customer,
The subject of Corona is omnipresent. We take the situation very seriously and have taken preventive measures to protect our entire team. In addition to stricter hygiene and behaviour regulations, we have expanded our production and storage areas to over 5000 square metres in recent years. This means there is enough space and room available, which is certainly unique in the Humidor industry. Our production is fully occupied, we continue to produce as usual and can continue to offer our usual service internationally.
A 135 years old company like us will not let itself be beaten down and we are sure that even in stormy times our and your love for custom-made Humidors will not let up. We are here for you and continue to handle your inquiries and orders with pleasure.
Stay healthy! We are looking forward to hearing from you!
Best regards
Karl-Heinz Gerber & the team of Gerber Humidor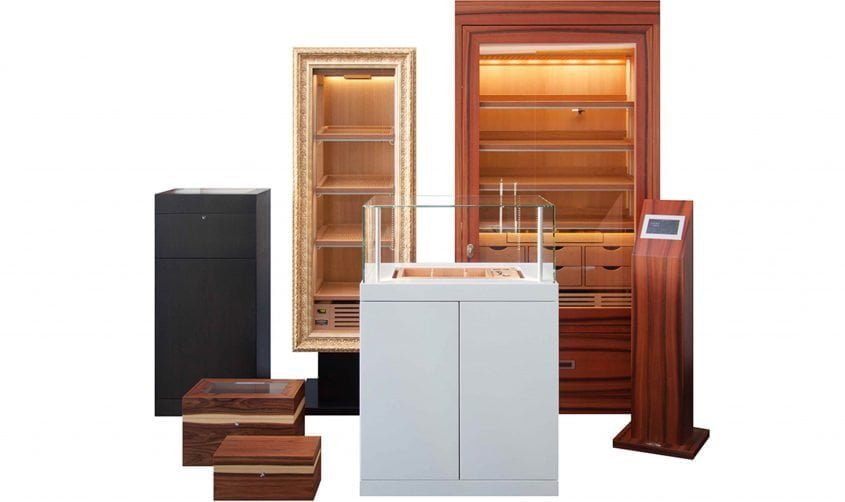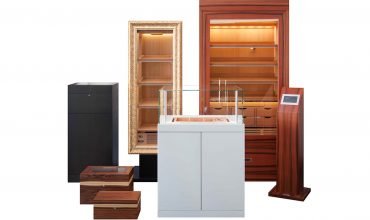 Humidor models
From a table humidor to a cabinet humidor, you can choose from several different sizes. There is a right fit for every need. You choose the design and the décor, we will support you with pleasure.
Merken
Merken
Merken
Merken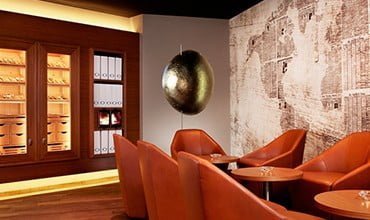 Humidor special productions
Custom Solutions are available in a wide range of options, from a small travel humidor up to a walk-in solution. Space-saving Built-in cabinets for a perfect integration into walls & room-sized Cigar Lounges. 
Merken
Merken
Merken
Merken
Merken
Merken
Merken
Merken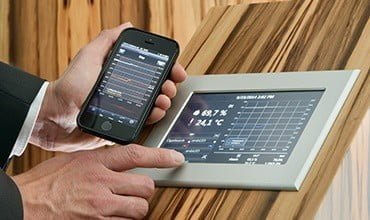 Equipment
We are glad to advise you in the selection of the optimum materials and best types of equipment for you. With our humidors Your luxury cigars are protected and presented in a perfect manner.
Merken
Merken
Merken
Merken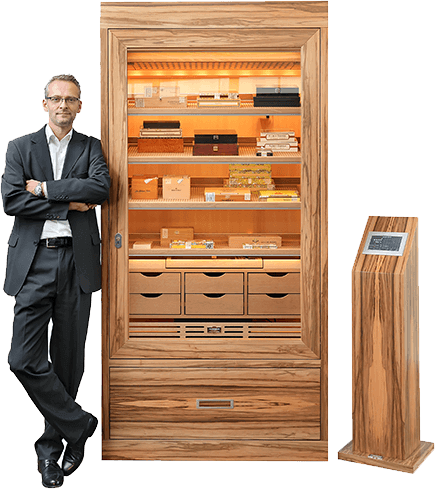 Humidor Number One
Tradition meets Modernity
As a freestanding cabinet humidor, the No. 1 is unmatched in size, function and features. It is a luxury cigar cabinet. It offers a two-shell construction system with an inner cabinet made of Spanish cedar (Cedrela) and an interchangeable outer cabinet. Therefore, it is possible to customize the No. 1 to best suit your needs. You will create a piece of art, both in design, as well as in function- a special cigar cabinet for your special tastes. This made-to-measure humidor is lined with Spanish Ceder. We buy our Spanish Ceder only of the best growing areas.
As with all Gerber humidors, this is a traditional piece, which proudly bears the stamp "Made in Germany". We produce made-to-measure cigar cabinets and cigar lounges. However, the traditional appearance of this luxury cigar cabinet hides state-of-the-art technology, such as programmable logic control and a web-enabled interface, which allows you to access important data about your humidor via a smartphone app. This combination of beauty and technology makes the No. 1 the perfect storage unit for your high-quality cigar collection. If you wish something for eternity buy your new luxury humidor with us.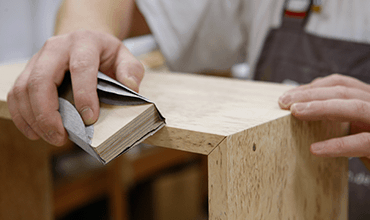 Our production
Gerber humidors are hand-crafted in our own workshop. Each step of the process is undertaken with great care so that an elegant piece of furniture emerges from the raw material we gather for every piece.
Merken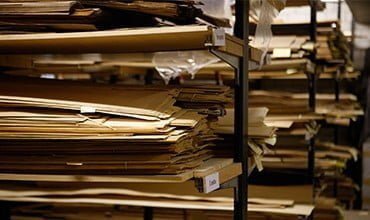 Humidor materials
Fine woods or precious metals, the unique high-gloss material of Parapan ®, the mineral feel of Corean © or decorative lacquer finishes. With us, no desire remains unfulfilled.
Merken
Merken
Merken
Merken
Merken
Merken
Merken
Merken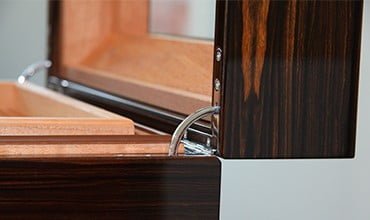 Humidor quality
Our commitment to quality is simple: We only use certified raw materials, high-tech equipment, Spanish Ceder (Cedrela Odorata) interiors, and exacting standards during production.
Merken