C·Flex System
With system for perfect presentation
In order to keep proper track of everything in your humidor, organization is essential. For a cleverly division of the cigars inside the humidor we have designed the C·Flex System which is usable for the Cigarboards, for the drawers and for the Serviceboards of the Gerber models. With our partitioning elements, the C · Parts und C · Pins -planks and pins made from decorative Spanish Ceder– the shelves and drawers can be divided in smaller areas to sorting the cigars after aroma and taste. Infinite combinations are possible. You can fit the niches and segments perfectly to the shape of your cigars and your boxes. The efficient plug system is perfectly adjusted for the circulation holes and works without additional holders. Another example of our high demands on craftsmanship.
At the beginning, we have only two sizes of the pins and two sizes of the planks. Because of the popularity, we have further developed our flexible plug system. Now you get the pins in variations as well as the planks. So every model of our humidors can be equipped with this innovative system. In large cupboards, you have a lot of possibilities for individual spaces. But also in our smaller humidors you can use the pins for an intelligent usage of the space.
One of the secrets of the C·Flex System is the easily handling in combination with the flexibility. The basis for the system are the ventilation holes in our drawers, Cigarboards and Serviceboards. All items are made with holes to guarantee the air circulation in the humidors. Are holes have the same diameter, so the plugs of the 100% Cedrela C·Flex always fits. They are movable and twist into place, allowing for variability. These pins provide for the protection and the development of the perfect flavor.
The plug-in connections follows a simple but proven idea. Wood-to-wood and turned by hand the pins and planks made from Cedrela odorata doesn't require any additional holder. The high quality standard of material and good workmanship is maintained. By reason of the different sizes of the elements the inner space can easily adjusted.
The varied dimensions of the cigars and his boxes are perfectly mapped in the C·Flex System. You can separate the cigars after home country, variety, aroma – whichever  you prefer. Cigar aging  (for a longer period) sustains to phases out bitter substances and ammonia. Following that the cigars are ready for the "Marriage of Cigars". Some of our customers appreciate the new taste and aroma, if the Tabaco oil of different cigars will be mixed. If that is your meaning, you can put your favored cigars with the same strength together in one space. But beware, not every cigar is suitable for cigar aging. Some of them loose there aroma and the flavor will less substantial. One rule of thumb: especially strong cigars and such ones that smells not satisfactory in a non-lit condition, can be suitable for cigar aging.
Gerber Humidor - C-Pins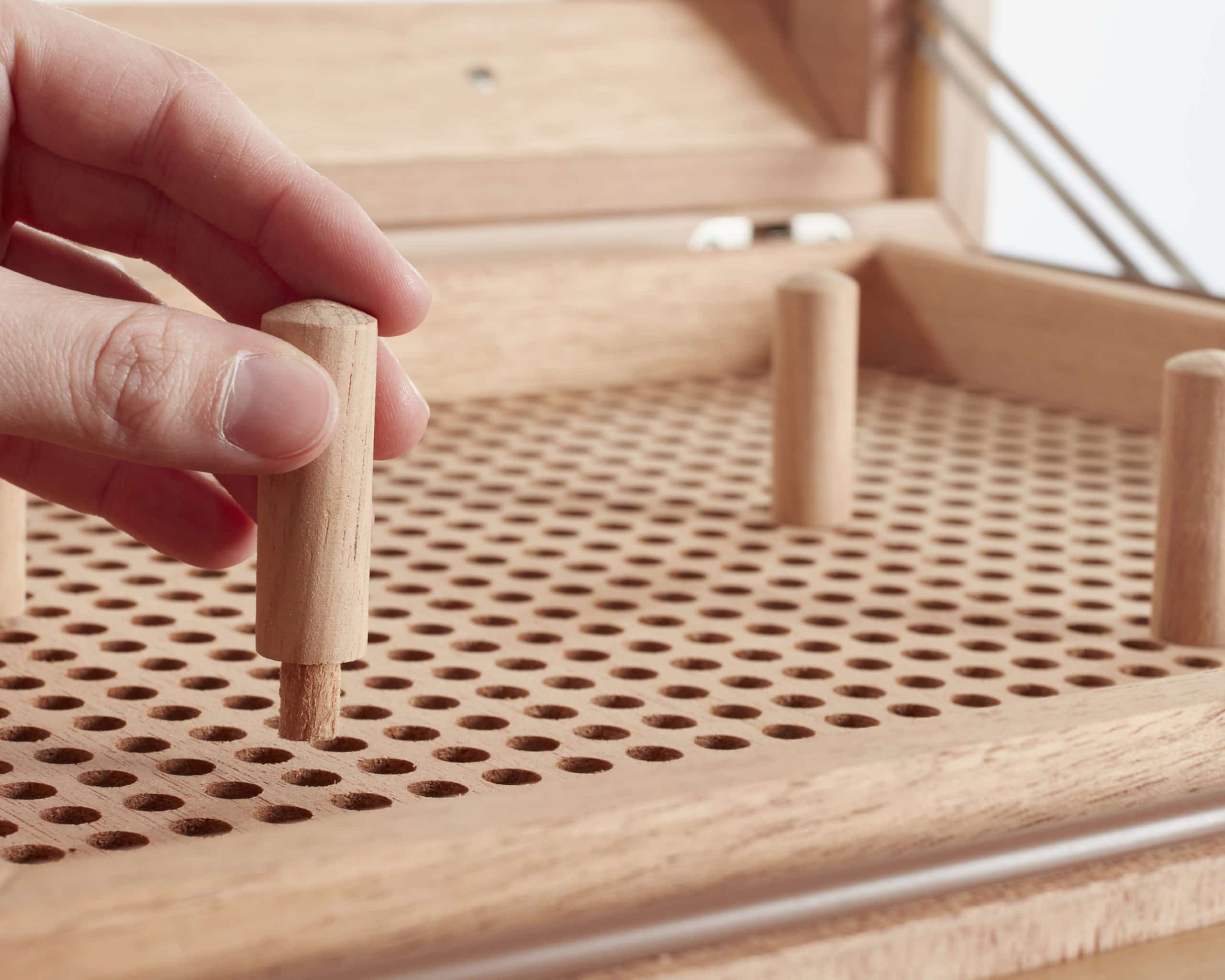 Gerber Humidor No. 1 - C-parts aus cedrela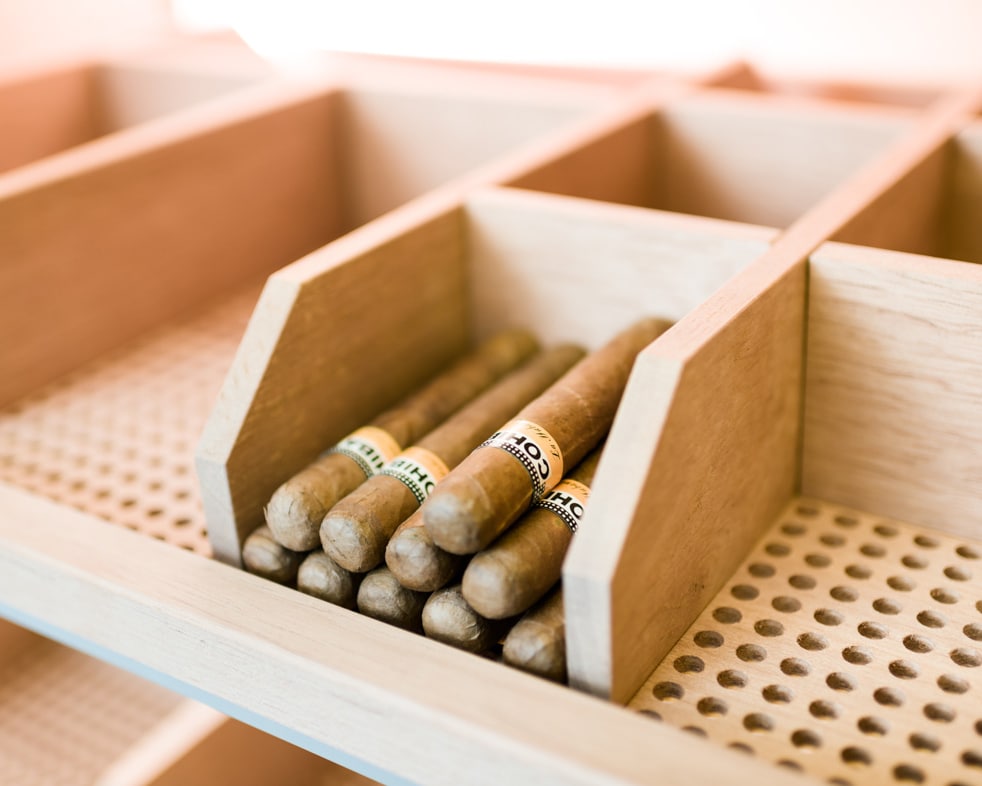 C-Parts from Spanish Cedrela
⠀
Gerber Humidor - C-Parts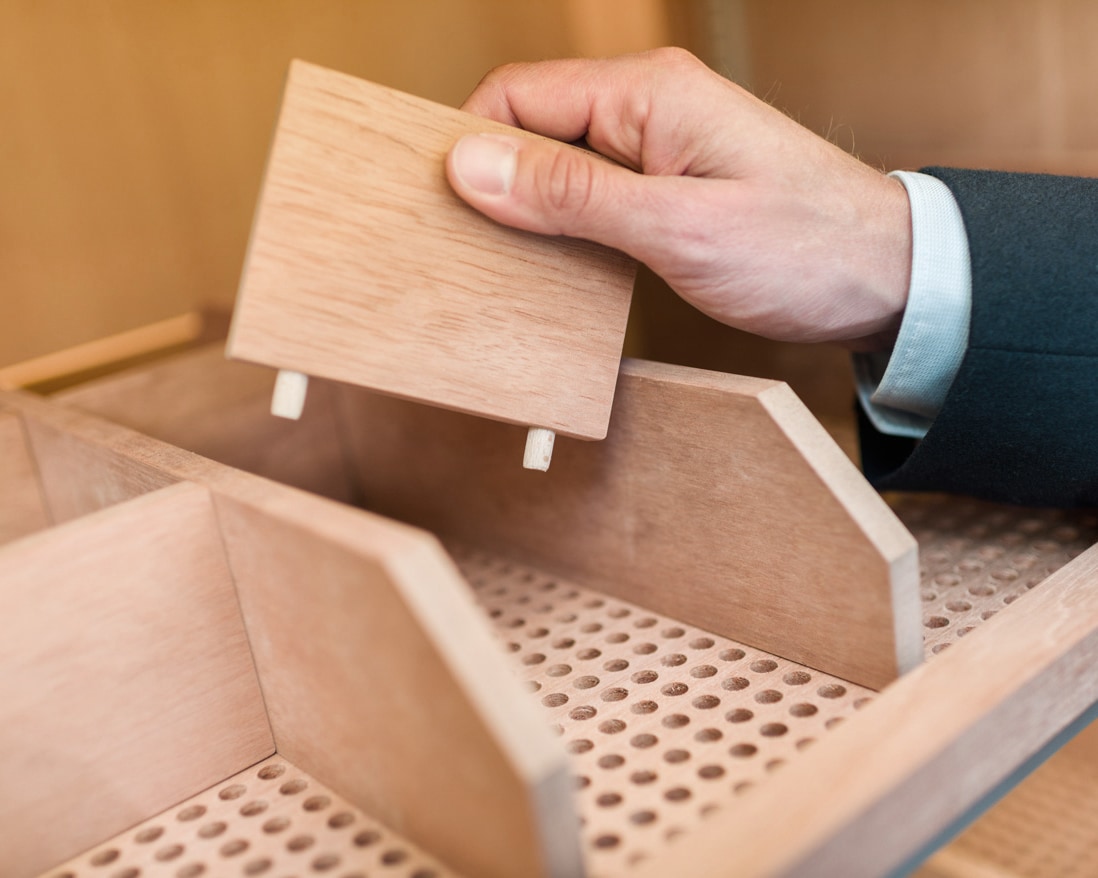 C-Parts for variety and flavour separation
⠀
Gerber Humidor No. 1 - C-Flex System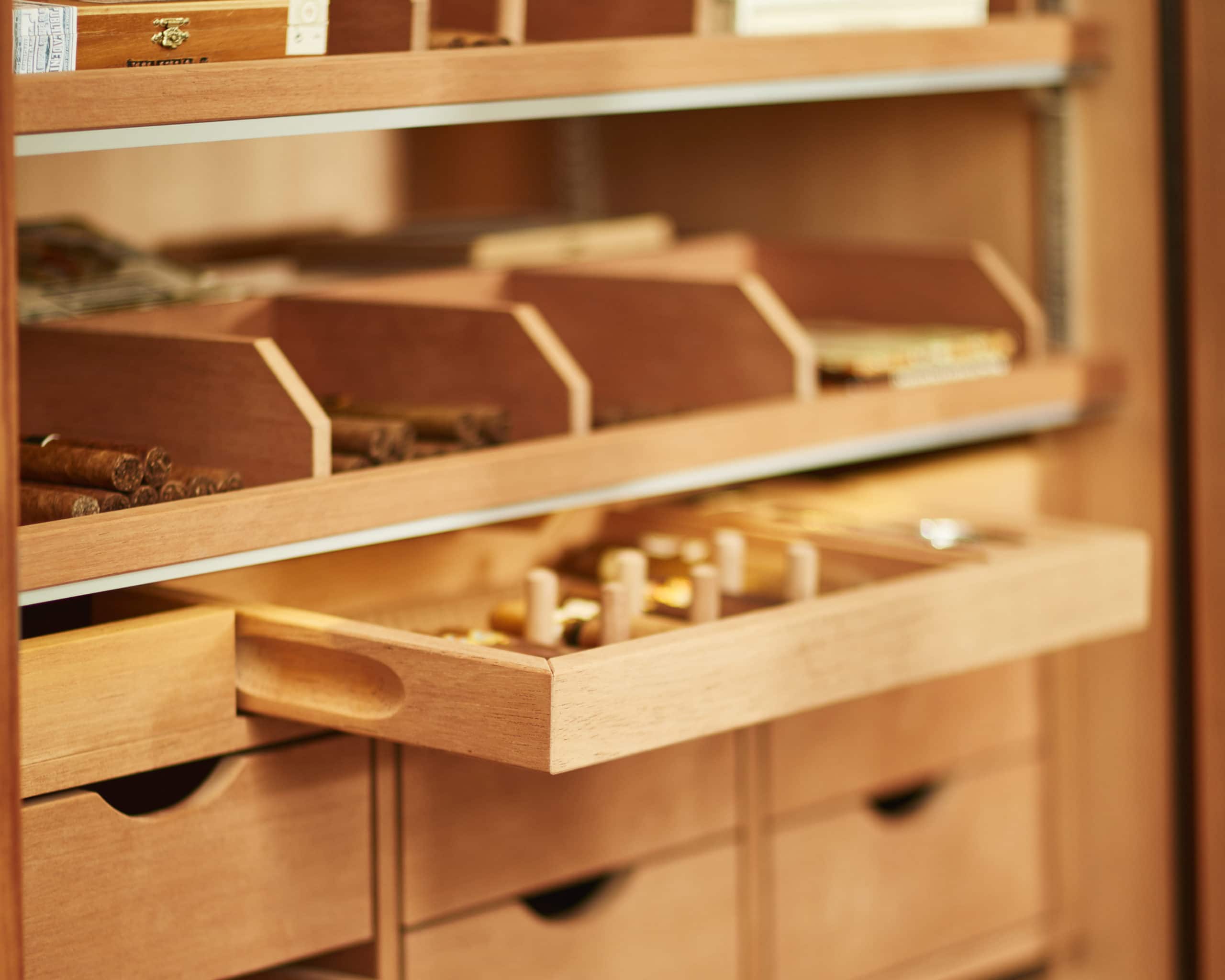 Gerber Humidor - C-Flex System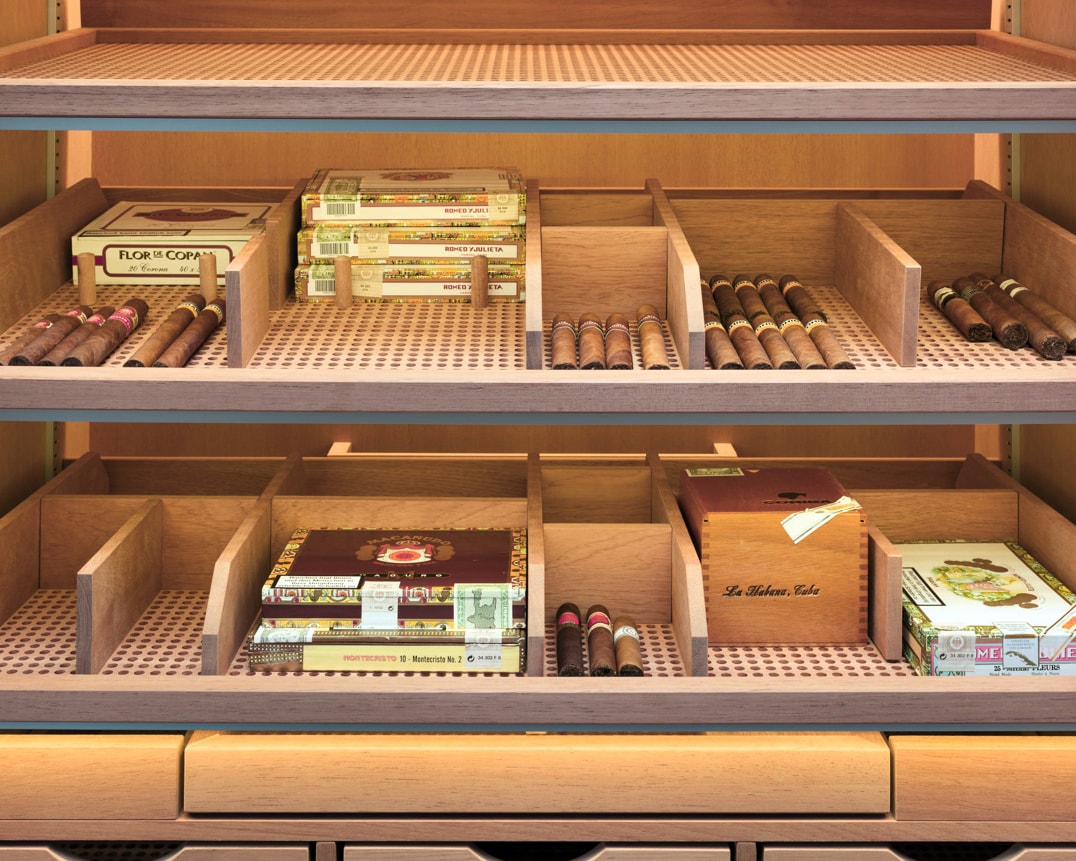 Gerber Humidor - C-Flex System
⠀
Gerber Humidor - C-Flex System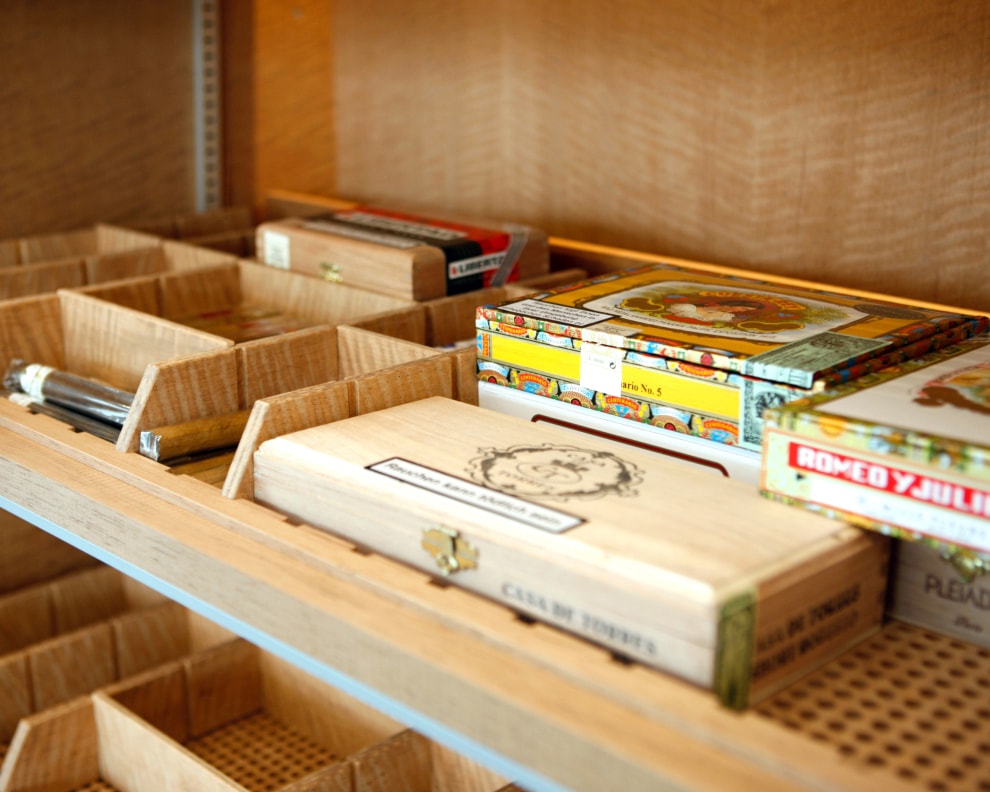 Boxes and cigars can be rearranged
⠀
Gerber Humidor - Cedrela Pins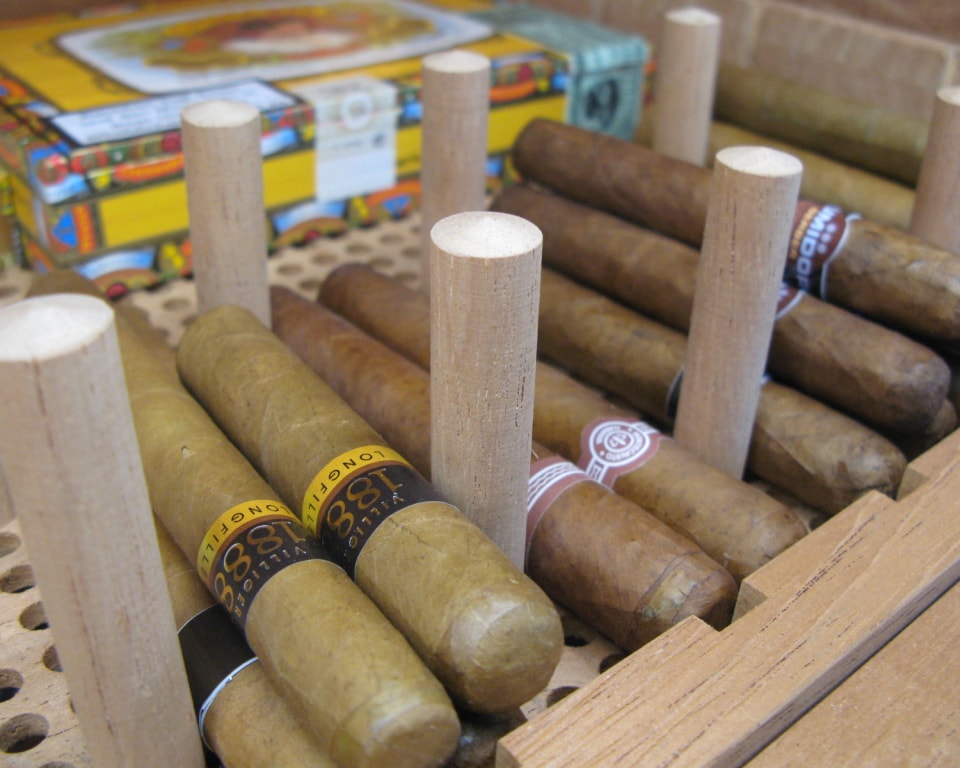 Pins from Spanish Cedrela
⠀
Gerber Humidor C-parts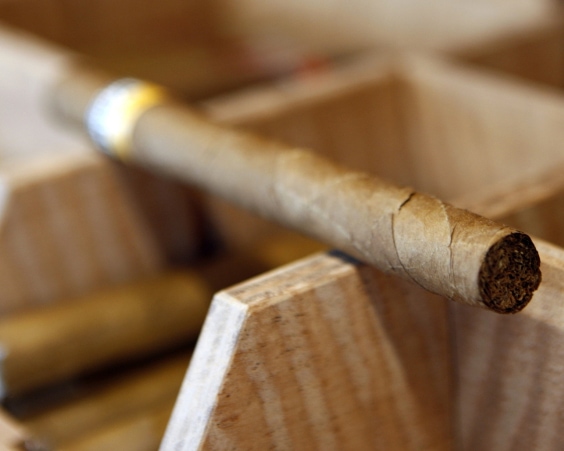 Individual interior design
⠀