Gerber Humidor
Our humidor models
The first humidors that we have produced in our manufactory were all individual items, designed together with our customers. With our longstanding experience in the production of luxury furniture and humidors, we are able to produce some humidors that are of interest for a wider public. Bases on this unique items we have developed your different models in the last years.
Our models are set in form and size. For the individual design, our material library offers a wide range of different decors. We are able to compile variety of the possibilities together with our customers. Luxury woods, valuable metals, modern materials and the whole color spectrum is possible. Inside the humidors we use traditionally the original humidor wood, in common sense as Spanish Ceder. The extraordinary smell of the Cedrela odorata supports the aroma of the cigars during cigar aging and storage for a longer period. The equipment of the inner space can be equipped individually. For every model, there are a certain number of components that are appropriate to the size of the humidor. So you can choose depending to your collection.The heart of our humidors is the electric humidification system. The humidification system is a proprietary development by Gerber designed for our humidors. The humidifier can be combined with corresponding systems for dehumidification, filtration and fresh air. Every Gerber Humidor is a handmade piece of art. It is equipped with many loving details. For example individually designed keys and engravings. Equipped like this your humidor will be a personal collector´s item.
If you will not make a find at our models, please let you inspire from our made-to-measure productions. Concerning to dimensions, measurements and design we are flexible. We produce cigar cabinets tailor-made to your rooms. Built-in solutions for existing furniture or fully equipped cigar lounges with wine cabinets and whiskey lockers. We are delighted to fulfill your wishes. Customer Service is a personal matter and we looking forward to your telephone call or your e-mail.
Number One
The freestanding head-high humidor is really a number one worldwide. The cigar cabinet is the biggest of our established models. The first of all was formed and created in close contact with a long-life customer. He wishes something unique, impressive and special for his luxury cigar collection. At the same time, our customer wishes high-end functionallaty and the best storage for his beloved cigars. The result was so impressive, that he came, we saw and the No. 1 was victorious. Until know it was the biggest and most exclusively of our humidor models. Unmatched in quality and equipment.
A very extraordinary feature is the additional touch panel. The Touch Panel controls the PLC of the humidor. Via Mobil App, you can control the values shown from at the Touch Panel. The screen can be placed in a stele made from the same wood as the humidor or in an existing furniture.
Dimensions: 220cm / 87inch x 109cm / 42,9inch x 70cm / 27,6inch (H x B/W x T/D)
Ascension
Our humidor Ascension is the piece of furniture with the eye-catching moving glass dome. The development was based on the idea of an extraordinary way of cigar presentation. In the spotlight stands the joy of collection cigars and the high regard to savor the finer things. The clear and pure glass dome emphasized the value of the high-classy cigars. The ideal surrounding for collectors' items.
The Gerber humidor Ascension is available in two different sizes: Medium and Large
Medium: 120cm / 47,2inch x  80cm / 31,5 inch x 60cm / 23,6 inch (H x B/W x T/D)
Large: 120cm / 47,2inch x  110cm / 43,3 inch x 70cm / 27,6 inch (H x B/W x T/D)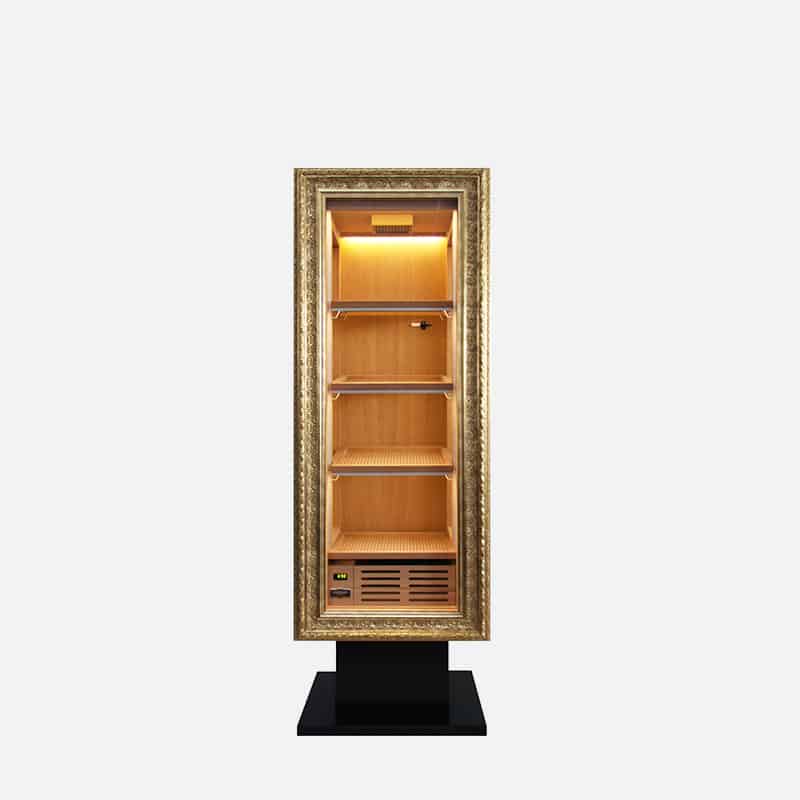 CigarArt
The highlight of the freestanding humidor is the frame, which forms the shapely door and invites you to create an individual design. The design was inspired by opulent picture frames of classic masterpieces of art, hence the name Cigar "Art". Opulent golden baroque frames are just as possible as purist avant-garde projects made of modern materials.
Particularly exciting and unique are frames designed by contemporary artists.
Dimensions: 195cm / 76,8inch x 65cm / 25,6inch x 55cm / 21,6inch (H x B/W x T/D)
Monolith
Our humidor Monolith keeps what the name promises: distinctive, ageless shapes. The design radiates grandeur, classiness and peace. A piece of art and craftsmanship as from a single mold. The layout of the humidor Monolith is genuine, cubistic and timeless like the handicraft itself. The warm colors of the luxury veneer form a visually pleasant contrast with the straight-lined character of the humidor.
The Monolith keeps its precious cigars under its imposing lid until the moment of relaxed enjoyment. On request, a glass panel with lighting can be embedded in the lid.
Dimensions: 120cm / 47,2inch x 56cm / 22inch x 42cm / 16,5inch (H x B/W x T/D)
Cube
Our Cube is a shapely table humidor, which sets with its comfortable size also smaller cigar collections in scene. Its design is reminiscent of an exclusive treasure chest, in the interior of which your special treasures are safely kept. On several levels, both loose cigars and cigar boxes are stored under ideal conditions. For extension, the cube can be set to a base.
Its timeless design, as well as the many different decors that are available, make each cube unique, for a lifetime of pleasure.
Maße: 35 x 51 x 32 Zentimeter (H x B x T)
Dimensions: 35cm / 13,8inch x 51cm / 20inch x 32cm / 12,6inch (H x B/W x T/D)